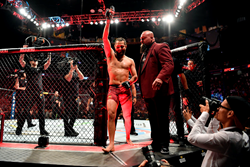 I'm coming for that belt. I don't know who's fighting next for it and what not but you guys know who deserves that belt. That's 16 years of hard work. You guys know who deserves that belt. Jorge Masvidal
LAS VEGAS (PRWEB)
July 08, 2019
Monster Energy congratulates Jorge 'Gamebred' Masvidal on making history with a knockout win against Ben Askren only five seconds into the Welterweight fight at UFC 239 on Saturday night. In front of over 18,300 fans at T-Mobile Arena in Las Vegas, the 34-year-old from Miami, Florida set a new record for fastest knockout in UFC history after landing a flying knee blow that derailed his opponent. He also received a $50,000 Performance of the Night bonus check.
In the night's main event, Monster Energy's Jon Jones defeated Brazilian mixed martial artist Thiago Santos to retain his UFC Light Heavyweight Title. The 31-year-old from Rochester, New York is on a 15-fight winning streak and remains unbeaten since 2009. He won the fight by split decision after going the distance for five rounds.
But let's start with the night's show stopper. Masvidal (34-13) is the most recent addition to Monster Energy's stacked MMA line-up and was facing a major test on Saturday. Ben 'Funky' Askren came into the fight undefeated with 19 wins to his name as the former ONE Championship and Bellator titleholder.
Facing the biggest fight of his career, Masvidal remained confident in the cage at T-Mobile Arena. Once the opening bell rang, he instantly came charging across the Octagon with both arms pinned behind his back, prompting his opponent to dive in for an immediate takedown. But instead, Askren walked straight into a well-timed flying knee to the temple that sent him straight to the floor, out cold.
Judges pronounced Masvidal the winner by knockout five seconds into the fight, a new historic record. It is exactly one second faster than the previous record set by Duane Ludwig in a victory over Jonathan Goulet in 2006.
What's next for Masvidal? With a pro record at 34-13 and 15 of those wins attained by knockout, defeating Askren marks his biggest career win so far. It's also the second consecutive K.O. win after he destroyed Darren Till in March. UFC experts now think that Masvidal, who emerged from the South Florida backyard bareknuckle fighting circuit, may be lining himself up for a title fight against Kamaru Usman.
"I'm coming for that belt," Masvidal said after his UFC 239 victory. "I don't know who's fighting next for it and what not but you guys know who deserves that belt. That's 16 years of hard work. You guys know who deserves that belt."
Speaking of belts, in the night's highly anticipated UFC Light Heavyweight Title bout, Jones put his belt on the line against Brazilian martial arts expert Thiago Santos.
No fast knockouts here: The fight continued for five long rounds during which Jones decided to rely on his standing fighting skills, not using his wrestling skills once.
Instead of relying on his ground game, Jones went pound-for-pound with strikes and kicks against the Muay Thai black belt. After facing major heat from the Brazilian kickboxing expert, Jones drew blood with a signature elbow strike to the head and asserted his dominance in round three.
After 25 minutes of grueling battle, Jones stood on battered legs, but had left a dominant impression and was pronounced the winner at 48-47 on two judges' cards. But with one judge calling the fight in favor of Thiago Santos, it was the first split-decision verdict for Jones in his entire career.
"I was confident I won the fight. My coaches wouldn't lie to me. We feel like we won every round," said Jones after his victory in Las Vegas, adding: "I was just extremely grateful honestly to have a fight like that. It's extremely humbling. It drives me to study more, to work harder and to take the game even more seriously. It was a good warning for me tonight."
After defending his 205-pound title, Jones now commands a record of 25-1 MMA and 19-1 UFC. He won the championship for the second time in his career at UFC 232 in December 2018 by defeating Alexander Gustafsson.
Jorge Masvidal and Jon Jones are amongst Monster Energy's elite UFC team along with Donald "Cowboy" Cerrone, Conor "The Notorious" McGregor, Daniel Cormier, Dominick "Dominator" Cruz, Chris 'The All American' Weidman, Tyron "The Chosen One" Woodley, Max Holloway, Yair Rodriquez, Jessica-Rose Clark, Li Jingliang, and Cris Cyborg.
For more on Masvidal and Jones and Monster Energy's MMA athletes visit http://www.monsterenergy.com Follow Monster Energy on YouTube, Facebook, Instagram and Twitter.
###
About Monster Energy:

Based in Corona, California, Monster Energy is the leading marketer and distributor of energy drinks and alternative beverages. Refusing to acknowledge the traditional, Monster Energy supports the scene and sport. Whether motocross, off-road, NASCAR, MMA, BMX, surf, snowboard, ski, skateboard, or the rock and roll lifestyle, Monster Energy is a brand that believes in authenticity and the core of what its sports, athletes and musicians represent. More than a drink, it's the way of life lived by athletes, sports, bands, believers and fans. See more about Monster Energy including all of its drinks at http://www.monsterenergy.com.
Share article on social media or email: